Manhattan NYC Bald Man Has Full Facelift, Upper Bleph, and Chin Augmentation
Procedure Details
Men who are completely bald, often come to see NYC cosmetic surgeon, Dr. Sherrell Aston, because they want to correct facial wrinkles, but aren't sure of their options due to not having a distinct hairline. The good news is that even men who are completely bald can have a full facelift with amazing results. This 76-year old male desired to improve facial wrinkles, sagging skin, droopy jowls, and a neck that consisted of excessive loose skin. Dr. Aston performed a full facelift, using an incision point around the ears. Because there was not an existing hairline, extensions into the scalp were not used. The facelift was performed using a midline platysma elevation, as well as a deep plane SMAS approach to give the jawline and neck a stronger, more defined contour. This blended combination of surgeries lifted the midface and produce a masculine, younger looking neck. To polish off these results, Dr. Aston placed a silicone chin implant using chin augmentation surgery to strengthen the outcome. Upper blepharoplasty (eyelid surgery) was also performed to help lift the eyes and provide a more alert, awakened look.
More
Right profile view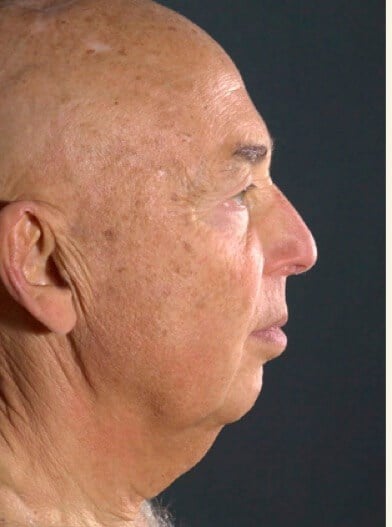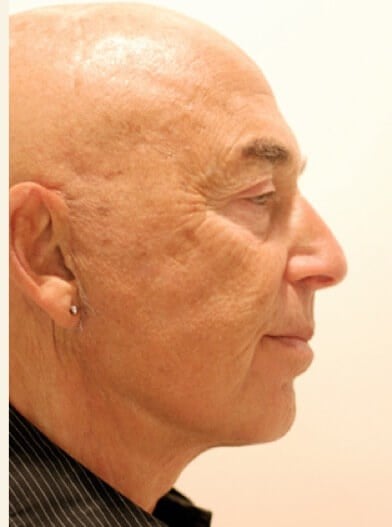 The difference in our patient's profile is extraordinary! The loose skin in his neck is gone, he has a tighter, younger neck and jawline, and a more defined chin with the help of a silicone chin implant. This creates a more masculine appearance and takes years off of his overall look. More
Front view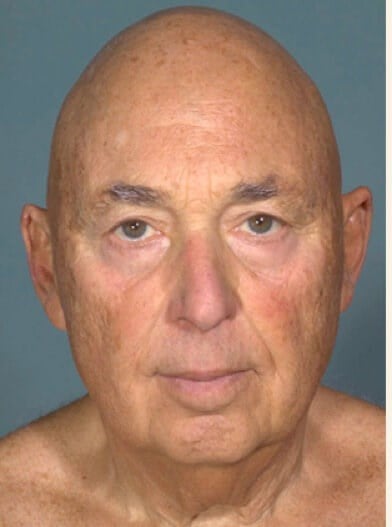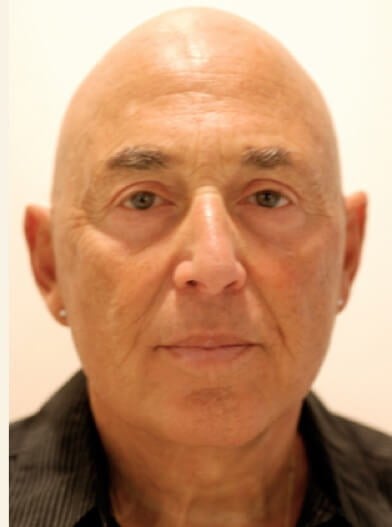 Facelift surgery shows the improvement in the contour of the mid-face. The cheeks appear lifted, wrinkles and lines are diminished, and the jawline has a smooth, even contour. Even without hair, this was made possible due to advanced techniques in cosmetic facial surgery. More
Back view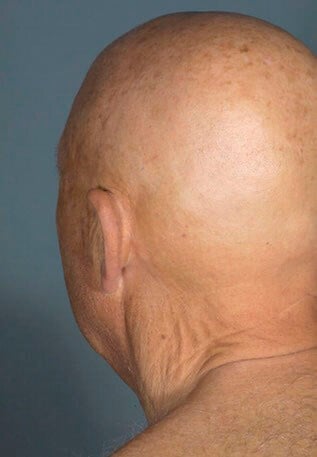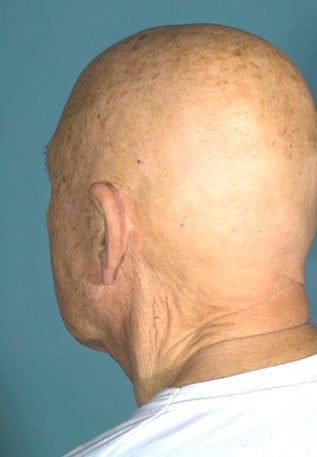 This view shows the back of the ears where Dr. Aston placed the incisions for the facelift procedure. The incision healed so nicely, that scarring is minimal. More
Facelift Options For Everyone!
Whether you are in your 50s or 70s, have a full head of hair, or are completely bald, there are numerous options to consider to help you look and feel younger. Dr. Aston will consult with you and discuss all of the latest techniques in facelift and neck lift surgery and create a custom treatment plan to meet your desired aesthetic goals. Our patient loves his results. Cosmetic surgery provided him with an exceptional outcome, and limited scarring that is practically unnoticeable. Call our Manhattan office today to learn more!
Location